Safe Cracker - The Locked Safe And Vault Opening Service
Talk To A Professional Safe Cracker / Safe Engineer
Call, Text or WhatsApp Dave On:
07850 046641
Email: info@safe-cracker.co.uk
One of the UK's only full time professional safecrackers
A Full Service Is Being Supplied During The Current Covid
Crisis and I have now received both my Covid vaccines.
Banham Safe Opening Service
Banham are a locksmith company who have a number of branches around the UK. Although they do not produce their own safes, they are large enough to have other safe companies make safes for them which they re-brand under the Banham name.
---
Banham SMP Mercian Safe Opening - No Combination
Although badged as a Banham safe, this is actually an SMP Mercian safe rebadged by Banham and sold under their brand. It is a very easy safe to identify by its two tone colour design. When the new owner purchased a house on Wimbledon Common it came complete with this SMP Banham safe. What it didn't come with was the combination to open it! The owner contact safecracker seeking assistance. Safecracker attended and opened this SMP Banham Mercian safe for him, returning it back to full use. If you have an SMP safe or a safe badged as a Banham and need it opening, just call safecracker.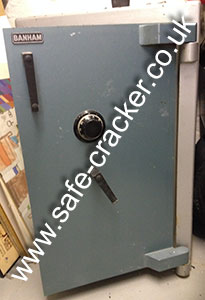 ---
Banham Home Safe - No Combination Known
The new owner purchased this safe from a frined, the safe was open but neither knew the combination or how to recover it. That didn't seem to be a probelm, as the new owner, a Crown Court Judge, lived near to a Banham locksmith shop. His Honour took the door off and walked it round to the Banham shop only to be told that there was nobody there that knew how to help him! He then contacted safecracker, we attended and set a new combination in to the safe for him and ensured that his Honour could correctly open it. If you have a safe that needs opening or a combination recovering call safecracker.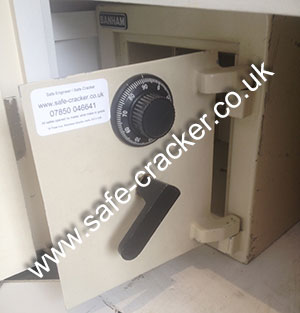 ---