Safe Cracker - The Locked Safe And Vault Opening Service
Talk To A Professional Safe Cracker / Safe Engineer
Call, Text or WhatsApp Dave On:
07850 046641
Email: info@safe-cracker.co.uk
One of the UK's only full time professional safecrackers
Comsafe Opening Service
Comsafe are a brand of safe using a very similar safe and lock system to Chubb Secureline. Safecracker can open all grades of Comsafe's. Their main safe is the Comsafe Premium Line Safe.
Comsafe Safe Picked Open - Green Park London
When the building suffered a burglary, staff at a central London company discovered that the keys to this Comsafe had also been taken. They telephoned Safecracker. I attended and picked open the fitted Mauer 8 lever lock, opening the safe with no damage to it what so ever. I then replaced the lock and supplied two new keys returning the safe back to full use and also retaining the safes insurance rating. If you need a Comsafe or any other safe opening, call safecracker the professional safe opening service.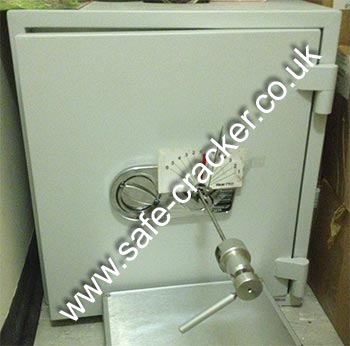 Comsafe Gun Safe
When the owner of this Comsafe gun safe sadly passed away no one knew the code to open the safe. Safecracker attended and opened this Comsafe Gun safe allowing the guns to be collected by a certificate holder and placed in to safe keeping. If you need a Comsafe Gun Safe or any gun safe opened, call SafeCracker.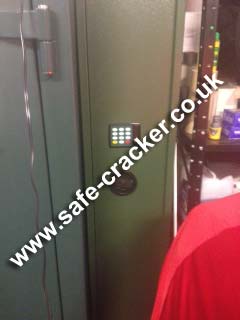 Comsafe Grade 1 Failed E-Comb Lock - Christmas Eve!!
It is Christmas eve, and the owner of this Comsafe Grade 1 safe which is failing to open even with the correct code has it in the back of his car driving from locksmith to locksmith desperate to find someone to open it. The reason why it's so urgent? his wife's present is locked inside. One shop gives him the number for Safecracker which he calls. We arrange for him to bring it straight to our workshop. At 5.30pm on Christmas eve, the door swings open, and Xmas is saved!!. We then adapt the safe and fit a new Mauer President key lock. If you have a safe which needs opening no matter what make or grade, call safecracker.