Safe Cracker - The Locked Safe And Vault Opening Service
Talk To A Professional Safe Cracker / Safe Engineer
Call, Text or WhatsApp Dave On:
07850 046641
Email: info@safe-cracker.co.uk
One of the UK's only full time professional safecrackers
A Full Service Is Being Supplied During The Current Covid
Crisis and I have now received both my Covid vaccines.
Phoenix Safe Opening Service
Phoenix safes are one of the UK's oldest safe manufacturers. Phoenix are a good reliable safe offering various grades of security to burglary and fire. Many Phoenix Safes have both key and combination security fitted. Safecracker can open all models from Phoenix safes.
Phoenix Castille 6 Safe Opening - Central London
When due to what they thought was a worn key pad, the staff at a central London company were having trouble opening their Phoenix Castille 6 safe they called a locksmith. Taking them on their word, he changed the key pad for them. But after closing the safe, it would not open again. So the locksmith put the old key pad on, which now also wouldn't work, defeated he then called safecracker. We attended, opened the safe and put it back in to full working service. Even if you have what appears to be a simple problem with a safe always go to a specialist safe engineer.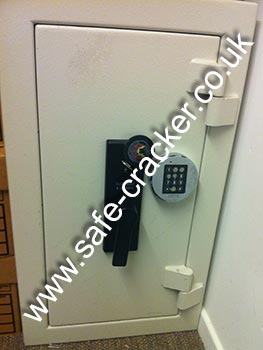 Phoenix 1200 Centurian Safe - Locked - Hackney London
When new owners took over a pub in Hackney they found this Phoenix Centurian 1200 safe locked in the basement. They contacted safecracker. We attended and opened the safe for them, putting it back in to full service with new keys. If you need a phoenix safe opening call safecracker.
Phoenix Datacombi Safe - No Combination - London
When new owners took over their new central London offices, this Phoenix Datacombi 2500 Series Safe came as part of the deal, unfortunately the code to open it was not! Stuck and unable to open it staff called safecracker. We were quickly able to restore the safe back to full working order with no damage, therefore keepings its fire rating in tact. If you have a Phoenix safe that needs opening, call safecracker.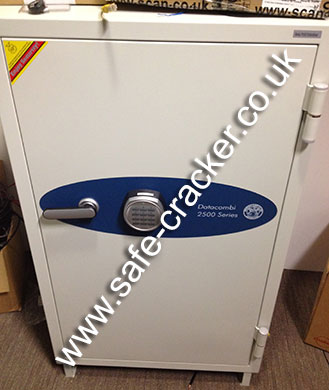 Phoenix Centurion Safe - Lost keys and Combination
When the staff at the offices of a registered charity in South London who provide support for young people with addiction problems, could not find the keys or remember the combination to this Phoenix Centurion safe, they emailed different companies looking for quotes. Safecracker knew that theirs would be the lowest quote, because we said that we would open it for free! And that is what we did. A good dead done for a worth while charity. If you need a Phoenix safe opening call safecracker.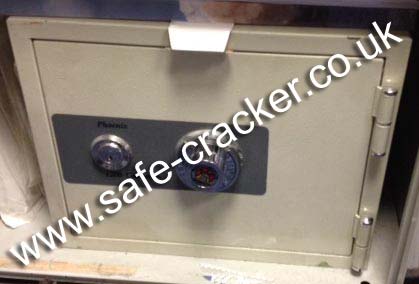 Phoenix Safe - Lost Combination - Hertfordshire
When the owner of this Phoenix safe forgot the combination, she telephoned four local locksmiths who advertised a safe opening service. One locksmith shop asked if she could break it off the wall and take it in to them and another wanted £60 to attend and look at it, just to see if he could open it!! Luckily she didn't fall for any of those scams and eventually she found Safecracker. One call to safecracker and we confirmed that we could open it and one text photo of the safe, confirmed the exact price. The next morning we attended, opened the safe with no damage and put this Phoenix safe back in to full use. If you need a Phoenix or any other safe opening, call Safecracker.
Phoenix Safe - Lost Combination - Brimsdown
When the staff who used this Phoenix fire safe forgot the combination to it, they telephoned Safecracker. We attended and opened their Phoenix fire safe restoring it to full working condition. If you need a Phoenix safe opening, call safecracker.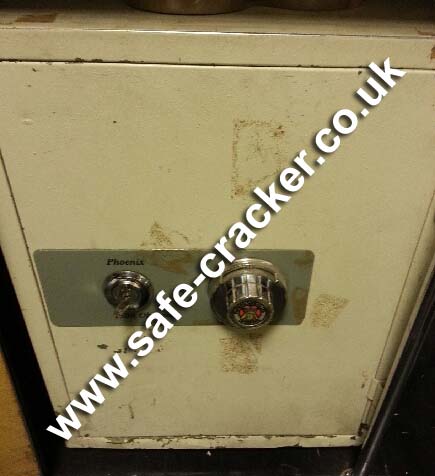 Phoenix Titan Safe - Combination Lost - Southgate College
Safecracker were called by staff at Southgate College after they could no longer access their Phoenix Titan safe as they could not remember the combination. Safecracker attended opened the Phoenix Titan Safe and returned it back to full use.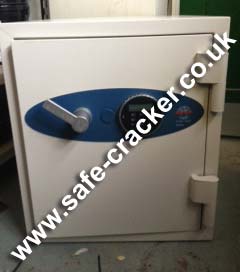 Phoenix Safes - 2012 Olympic Park
Safecracker were called to the 2012 Olympic park in east London after 3 of the Phoenix safes that had been used during the 2012 Olympic's were returned without the opening codes being sent back with them. Safecracker attended and opened all three Phoenix safes in a time that must be a new Olympic safecracking record!! Unfortunately no gold medals were awarded (or interviews with Jonathan Ross), but Safecracker did get some silver 2012 badges for the kids!! Call Safecracker if you have lost the keys or combination to a Phoenix safe or need a Phoenix safe opened.