Safe Cracker - The Locked Safe And Vault Opening Service
Talk To A Professional Safe Cracker / Safe Engineer
Call, Text or WhatsApp Dave On:
07850 046641
Email: info@safe-cracker.co.uk
One of the UK's only full time professional safecrackers
Lockmaster Safe Opening Service
Lockmaster safes are safes that are designed to be fitted in to the floor and hidden from sight. As such most are made of steel plate for sides and bottom, the reason for this being that the barrier material to prevent attack is the floor that they are fitted in to.
No matter what make or type of Lockmaster safe is fitted safecracker can open it and return it back to use. One thing you may note with your Lockmaster safe is that although fitted with an ID plate the model and serial number are blank!
Lockmaster Under Floor Safe - Combination Not Known
Because the owners of this Lockmaster under floor safe didn't know the combination for their Lockmaster under floor safe, they only used the keys to lock and unlock it. That was all fine until one of their young children decided to spin the dial on the combination lock for them and fully locked this Lockmaster safe. The owners called safecracker. We attended and put the safe back in to full use also showing the owners how to use a combination lock. If you have any floor safe that you need opening call safecracker.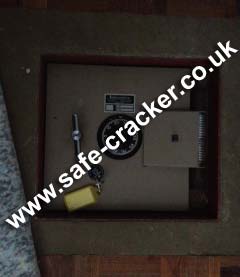 ---