Safe Cracker - The Locked Safe And Vault Opening Service
Talk To A Professional Safe Cracker / Safe Engineer
Call, Text or WhatsApp Dave On:
07850 046641
Email: info@safe-cracker.co.uk
One of the UK's only full time professional safecrackers
Rosengrens Safe Opening Service
Rosengrens Safes are a very high quality reliable safe offering various grades of security. There locks are also well designed and they have one of the very best locks on the market with their RKL10. The Rosengrens Safe models include the:
Rosengrens Atlantic Safe
Rosengrens Baltic Safe
Rosengrens Callisto Safe
Rosengrens Capella Safe
Rosengrens Cassio Safe
Rosengrens Euro Citizen Safe
Rosengrens European safe
Rosengrens European Safe- Failed Combination Lock
Safecracker were called to the cash office of a large department store in West London, when staff were unable to open their Rosengrens European safe. Even though they were dialing in the correct combination to the La Gard 4 wheel combination lock they could not get it to open. Two locksmiths had already attended and failed to open this Rosengrens European safe. Safecracker attended and opened the safe and returned it back to service. If you need any make or grade of safe opened always call a professional safecracker.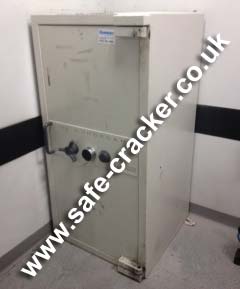 Rosengrens Safe Combination Lock Failure London
A customer contacted us about this Rosengrens Euro Citizen safe where the electronic combination lock had failed. He had already tried ringing other companies, including Rosengrens, who's actually made the safe but was unable to find a safe engineer who could assist. He contacted us and we were able to quickly supply him with a suitable agreed price to open the safe. We attended the next morning and opened the safe. Call us to open your Rosengrens Safes.