Safe Cracker - The Locked Safe And Vault Opening Service
Talk To A Professional Safe Cracker / Safe Engineer
Call, Text or WhatsApp Dave On:
07850 046641
Email: info@safe-cracker.co.uk
One of the UK's only full time professional safecrackers
Safe Opening Service In The London Area
Below are some examples of safecracker's services. They may well fall in to the situation that you currently find yourself in.
Are you in one of these situations?
Chubb Combination Wall Safe Opening - Dolphin Square
When the elderly female owner of this Chubb drop chute wall safe sadley passed away her family were left with a locked safe and no knowledge of how to open it. They were also unable to locate a very rare family heirloom any where within the premises. They called safecracker and booked us to open their safe. We attended the address and opened the safe for them and were pleased to say that the heirloom was present within it. If you need a safe opening, just call Safecracker. Cracking safes is all we do!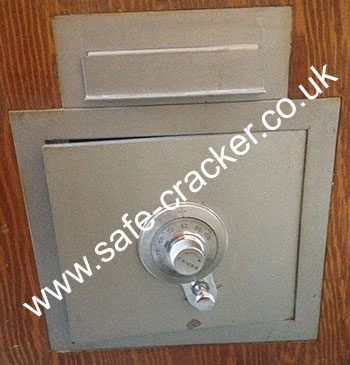 Banham Home Safe - No Combination Known
The new owner purchased this safe from a frined, the safe was open but neither knew the combination or how to recover it. That didn't seem to be a probelm, as the new owner, a Crown Court Judge, lived near to a Banham locksmith shop. His Honour took the door off and walked it round to the Banham shop only to be told that there was nobody there that knew how to help him! He then contacted safecracker, we attended and set a new combination in to the safe for him and ensured that his Honour could correctly open it. If you have a safe that needs opening or a combination recovering call safecracker.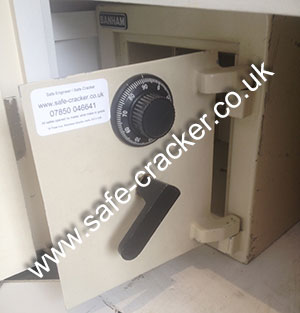 Sentry 1330 Safe - Lost Combination - London
When the staff at a famous book publishing company in central London could not remember the combination to open this Sentry 1330 fire safe, they decided that if you force the handle hard enough the safe will open. One broken handle and one still locked Sentry 1330 safe later they realised that it had not been the best course of action to take. Their next decision was the correct one, they telephoned Safecracker. The next day Safecracker attended and opened their Sentry 1330 fire safe for them. Putting it back in to service. If you need a safe opened, forcing it will not get it open, but calling safecracker will!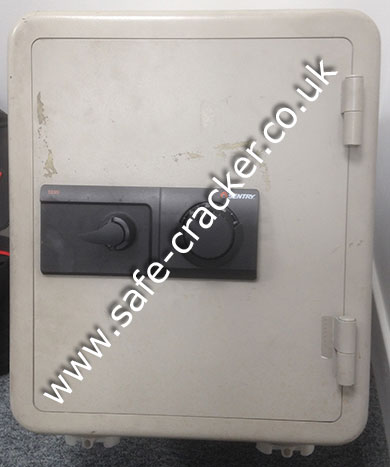 The £60K Locked Banksy Safe Opened
Outside of an art gallery, this safe is one of the only authenticated 'Banksy' works of art anywhere in the world. Safecracker were contacted by the new owner and asked if we could open the Banksy Safe with no damage what so ever to the safe. Not only did we confirm that we could, our price to open the Banksy Safe was our standard opening price. 90 minutes after arriving on site, the new owner pulled the now unlocked safe door open, revealing the previously unknown contents. If you need a safe opening, no matter what make, grade or work of art it is, just call safecracker!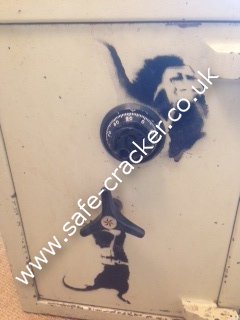 Chubb Wall Safe Opening Central London
The executor of a will contact Safecracker after he had found this locked safe in the premises that he was dealing with. A locksmith had attended but had not been able to open it. Safecracker arranged to meet the executor at the premises on a Sunday afternoon. We then opened the safe for him with no damage. If you need a wall safe opening, call safecracker.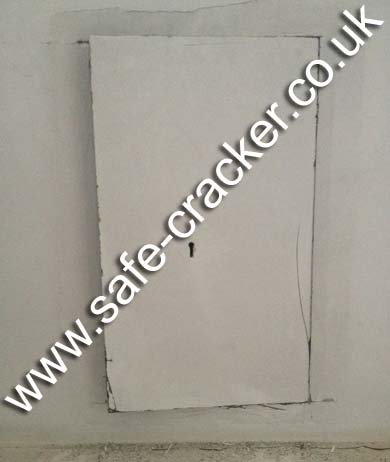 Victory Safe - Combination Lock Failure - London
When the staff at this central London school went to open this Victory safe to take out a number of their students passports, they found that the combination lock would not open. The students were due to fly out the next morning. They called safecracker. We attended that evening and opened their Victory safe allowing them to recover the passports. If you need any safe opened call safecracker.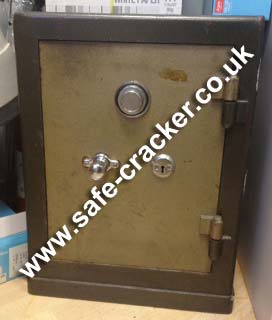 Dudley Windsor - No Combination Known - Central London
This Dudley Windsor Safe was locked with no-one knowing the combination to the 3 wheel combination lock that was fitted. Safecracker attended, opened the safe and returned it back to full use. If you need a Dudley safe opened or any other locked safe, call safecracker.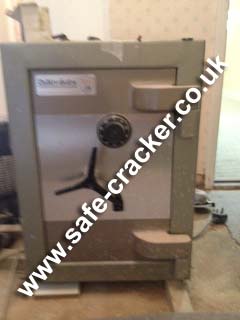 Chubb Secureline Safe - Forgotten Combination
The owner of this Chubb Secureline safe called safecracker after he returned from holiday and was unable to access his safe. Safecracker attended, opened this secureline safe and returned it back to full operation, but this time with a key lock!! If you have forgotten the combination to your safe call safecracker.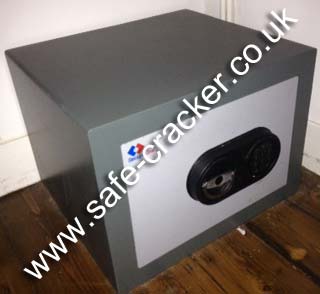 Chubb Isolator Safe Failed E-Comb Lock - London
This Chubb safe which is fitted with the Chubb isolator bolt works had an electronic safe lock failure, even when the correct code was entered you could not open the safe. We attended and opened the safe. If you have an electronic safe lock failure on a Chubb safe call safecracker.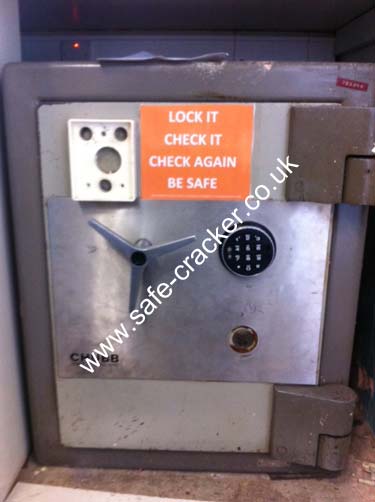 Locked Wertheim Vault Door - Enfield
Safecracker were called to this Wertheim vault door after the opening combination for the la gard 3 wheel manual safe lock had been lost. We recovered the combination for this La Gard lock with no damage to the Wertheim Vault door and returned it back to full service. Call safecraker if you need a safe technician to attend your Wertheim safe or vault.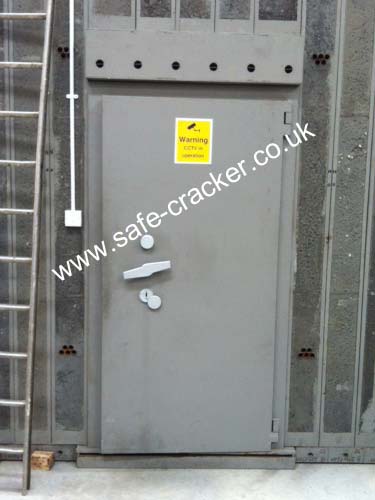 SMP Safe Failed Burglary Attempt - Heathrow
Safecracker were called to this SMP Safe after staff opening their shop found that over night they had been burgled and an attempt was made on their SMP safe. As you can see below, we opened the safe with out any further damage and also restored the SMP safe to full working order. If your safe has suffered a burglary attempt call safecracker to open and repair it.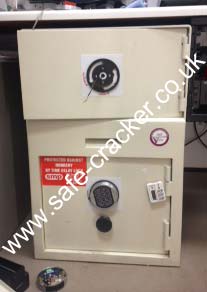 Lost Keys Radway Wall Safe - Totteridge N20
The owner of this small Radway wall safe had lost the keys to open it. She called safecracker and we attended and opened the safe. We also changed the levers around in the lock and supplied new keys. If you have a Radway safe that needs opening call safecracker.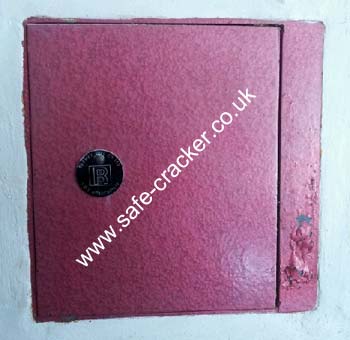 Safe Opening By Manipulating The Combination Lock
The owners of this safe inherited it when they purchased their house. They Called safecracker who attended and opened the safe without any damage to the safe or lock.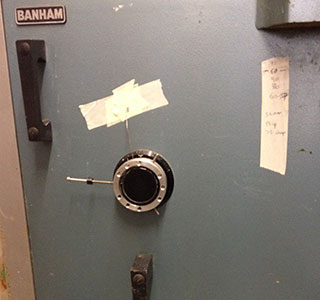 Safe Opening By Drilling Open The Safe
A new electronic safe lock that had been fitted on this Chubb safe failed after a very short time. The locksmith who installed it did not have the safe opening tools or knowledge to open the safe. But he did have the good sense to call safecracker first and not attempt to open the safe by himself.
Safecracker attended and after confirming the diagnostics we drilled in to the safe, opening the La Gard safe lock. The safe was then repaired to standard.
---

Safe Opened By Picking Open The Lock
A customer called safecracker with a locked Chubb Secureline safe, which he had no safe keys for. Safecracker was able to identify the safe lock as a Mauer President.
| | |
| --- | --- |
| | The Mauer President safe Lock. |
Safecracker then picked the safe open using a standard 2 in 1 pick. After opening it, safecracker changed the lever order around in the lock and cut two new keys. This way the previous keys, should they fall in to the wrong hands would no longer work on this safe. no damage was caused to the Chubb Secureline Safe.
---

Safe Where keys No Longer Worked
safecracker were called to this national chain of supermarkets as the safe key for the SMP safe they had no longer opened or closed the lock leaving the safe in the locked open position with the days takings inside.

Safecracker attended identified the problem and cut new keys leaving this SMP safe fully working again.
---
Leigh Safe Found During Renovation Work
Safecracker were called to this locked Leigh safe after builders found it during renovation work. The safe was fitted with a La Gard electronic combination safe lock.

Safecracker attended and quickly opened the La gard electronic combination safe lock. The Leigh safe is now in use by the new owners of the property.
---
Safe locked open,
Safecracker were called to this locked open safe at a large pub in North London, the owner was now unable to lock the safe which contained the days takings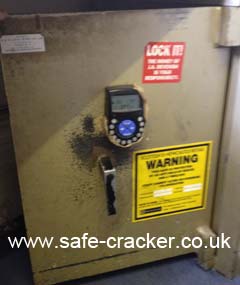 Safecracker attended and were able to quickly identify the problem with the safes electronic safe lock and rectify it, putting this Dudley safe back in to full service. Because of the short time it took us, the customer only paid the standard safe call out charge.
---
A Locksmith Has Tried To Open My Safe But Couldn't
Safecracker were called to this locked unbranded safe at a South London Police Station, a locksmith had previously attended and attempted to drill open the safe. He didn't have the right skillls knowledge or equipment to complete the task and had smashed the security glass in front of the safes lock. safecracker attended and opened the safe.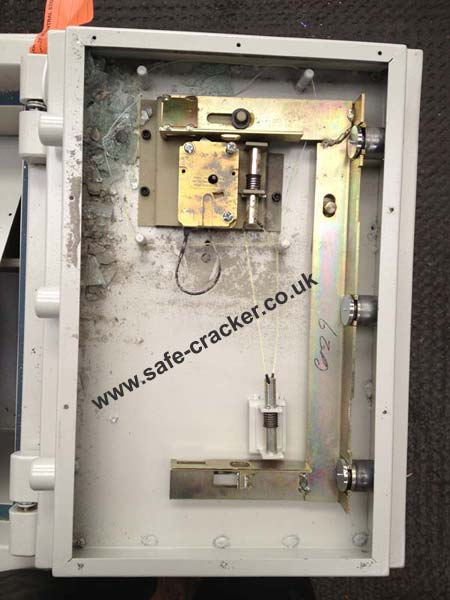 Always ensure the person you ask to attend is a safe specialist, or you may end up paying a lot more to get your safe open.
To view more examples click here