Safe Cracker - The Locked Safe And Vault Opening Service
Talk To A Professional Safe Cracker / Safe Engineer
Call, Text or WhatsApp Dave On:
07850 046641
Email: info@safe-cracker.co.uk
One of the UK's only full time professional safecrackers
Lagard or La Gard safe locks are one of the most common fitted on to safes today. Lagard make both electronic and manual combination locks. Safecracker can open all Lagard locks, no matter what make or grade safe they are fitted to. Below are some examples of safecracker opening Lagard locks.
Frontier Safe Opened With No Damage!
When the owner of this Frontier Gun Safe suffered a stroke, he was unable to remember the code to this and his identical gun safe. Under the orders of the local firearms officer the safes had to be opened and the guns removed by an authorised certificate holder. I attended High Wycombe and in the presence of a local gunsmith I opened both of the safes without an damage. After the guns were recovered and removed, I put both safes back in to full working order with new codes. Because the safes had not been drilled they were both still usable as gun safes under UK law. If you have a gun safe or any safe that needs opening, call Safe cracker. All I do is open safes.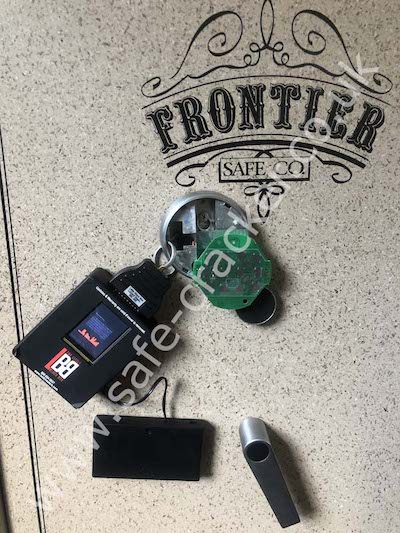 ---
Chubb Safe Failed Lagard Lock - London
This Chubb safe which is fitted with the Chubb isolator bolt works had a Lagard electronic safe lock failure, even when the correct code was entered you could not open the Lagard safe lock. We attended the British Rail Station in South London where it was fitted and opened the Lagard safe lock. If you have a Lagard electronic safe lock failure on a any safe call safecracker.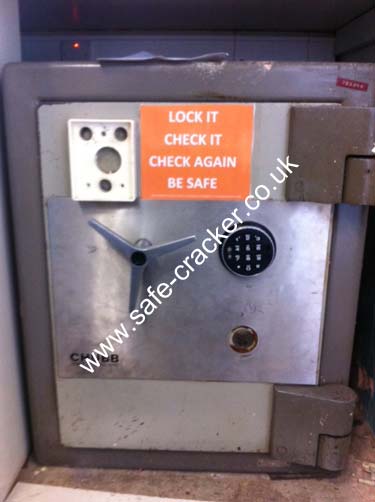 Chubb Safe Opening - Failed Lagard Combination Lock
The new Lagard electronic safe lock that had been fitted on this Chubb safe failed after a very short time. The locksmith who installed it did not have the safe opening tools or knowledge to open the Lagard safe lock. But he did have the good sense to call safecracker. We attended and opened the Lagard safe lock.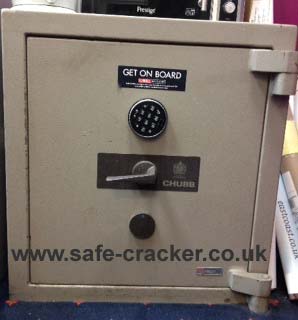 GB Luxembourg Safe Failed LaGard Lock - Hertfordshire
Safecracker were called to this GB Security Products Luxembourg safe after the Lagard electronic lock failed. Safecracker opened the Lagard and returned this GB Luxembourg safe back to full use. If you have a fault with a Lagard safe lock call safecracker.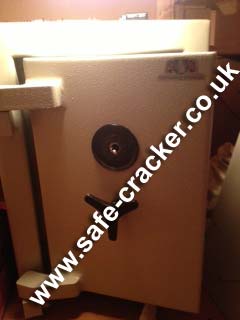 SMP Safe No Keys Or Combination - Kent
This SMP safe was found left locked in a large commercial premises when it was taken over by new owners. No keys or combination to the Lagard electronic safe lock could be found. Safecracker opened the safe returning it back to full use. If you have found a safe left behind in premises or need any safe opening call safecracker.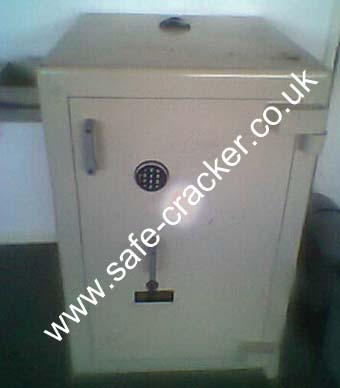 SMP Safe Failed Burglary Attempt - Heathrow
Safecracker were called to this SMP Safe after staff opening their shop found that over night they had been burgled and an attempt was made on their SMP safe and fitted Lagard safe lock. As you can see below, we opened the safe with out any further damage and also restored the SMP safe and Lagard lock to full working order. If your safe has suffered a burglary attempt call safecracker to open and repair it.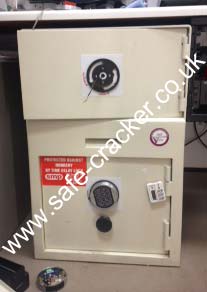 Rosengrens safe with failed La Gard Lock
A customer contacted safe cracker about this Rosengrens safe when the Lagard electronic combination lock had failed. He had already tried ringing other companies, including Rosengrens, who actually made the safe but was unable to find a safe engineer or safe technician who could assist and open his safe and Lagard lock. He then contacted safecracker and we were able to quickly supply him with a suitable agreed price to open his Rosengrens safe. We attended the next morning and opened the safe.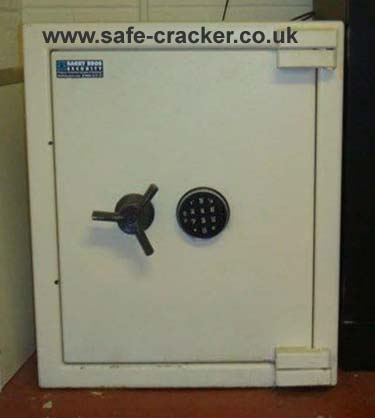 SMP Concept 2 Safe - London
This SMP Concept 2 safe was left secured in the premises when a new owner moved in. The old owners for some reason would not give over the opening code for the fitted Lagard lock. Safecracker attended and opened this Lagard lock for them. We also converted the safe to key locking. If you need an SMP safe opened or made key locking call safecracker.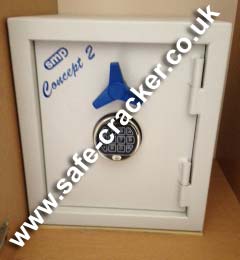 Radway Ambassador - Lost Combination - Reading
The owners of this Radway Ambassador floor safe had lost the combination to its LaGard 3 wheel combination lock and were now unable to open it. They called safecracker. We attended and opened this Radway Ambassador combination safe just from the dial with no damage to safe or lock. We the reset the combination for them. If you have a Radway Ambassador safe that needs opening call safecracker.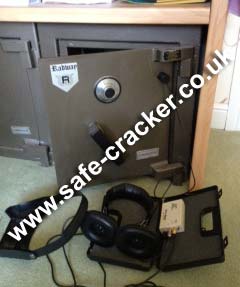 Leigh Safe Found During Renovation Work
This leigh safe was found during the renovation of a house on London. The combination for the electronic lock fitted, a La Gard was unknown and could not be found. We attended the address and opened the Lagard safe lock. A new new lock was fitted and a new combination set.